Essential Features For Your Louisville Bathroom
18 Jun, 2020
•

0 Comments
You've been putting off your remodel for months, but you've finally had enough of your ugly outdated bathroom! You know the mistakes others have made and you're ready to get started! If you want to remodel your bathroom, there are a few features that you can add into the design to make your remodeling project a success. Check out some of these essential features that will improve your Louisville bathroom's appearance and functionality and increase your home's value:
His and Hers Vanities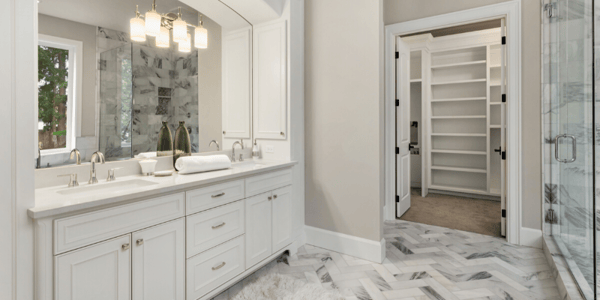 His and hers vanities allow couples to use the bathroom together in the mornings. Whether you're looking for more opportunities to spend time with your spouse or simply need an extra sink to make getting ready for work easier, talk to our team about installing a double vanity in your master bathroom.
Walk-In Shower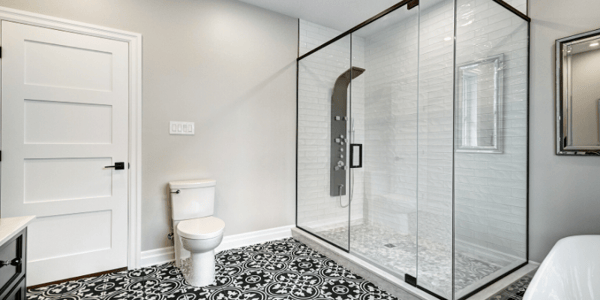 Walk-in showers with glass enclosures have become a must-have feature for most homeowners. They're sleek, elegant, and easy to maintain. They also create a nice roomy feeling in any bathroom no matter the size.
There's also another advantage to walk-in showers: they're good for aging in place. Seniors sometimes have a hard time stepping into or out of a bathtub, but they have far less trouble using a walk-in shower. Want to stay in your house for the long haul? A walk-in shower is an excellent investment for your future.
Heated Floors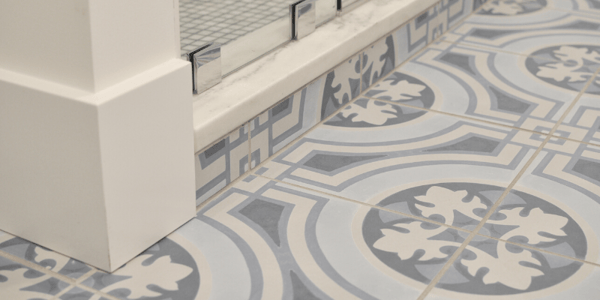 Heated floors take the shock out of stepping out of the tub onto your cold tile floors and turns it into a warm, wonderful experience. Not only are they great after a bath, but they'll help keep your feet warm during the winter time. Heated flooring is the ultimate luxury and it's easy to understand why so many people want to have it in their own bathrooms.
Freestanding Tub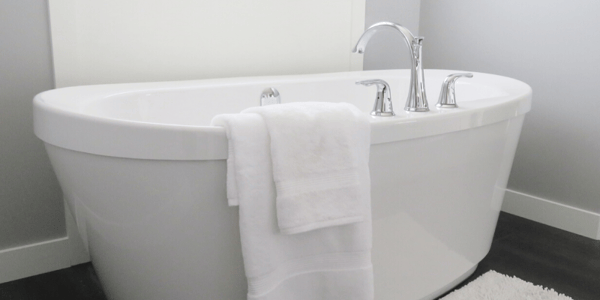 Nothing is more relaxing than soaking in a beautiful freestanding tub after a long day! Freestanding tubs are great for unwinding and can give your bathroom the illusion of more space. They come in a wide variety of materials from copper to porcelain and can be painted or finished in any color you can think of. Talk to our team about elevating your bathroom with a luxurious new freestanding tub!
Dressing Room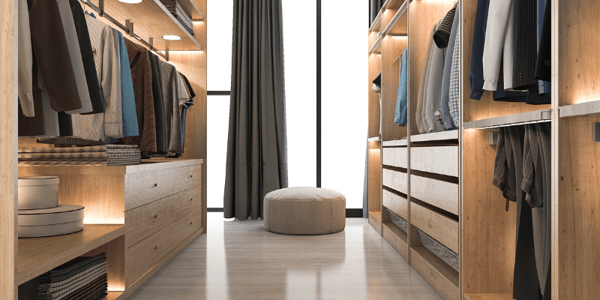 Are you thinking about expanding your bathroom? Install a dressing area where you can get ready for the day after showering. Dressing areas are especially practical if you and your spouse need a little extra space while you share your bathroom in the morning.
Custom Storage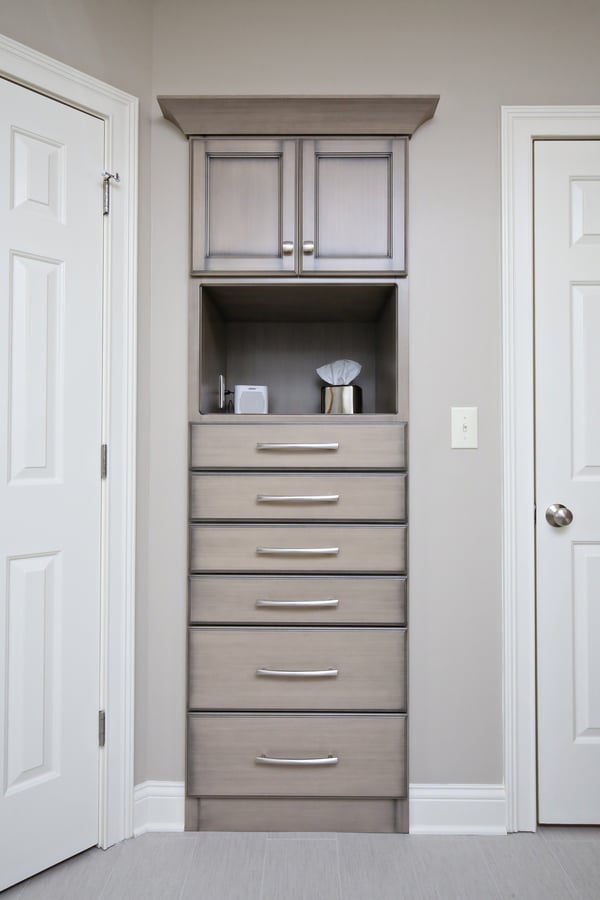 Storage is so important in a bathroom! You need space for your beauty, bath, and other products. Stock cabinetry isn't always adequate and sometimes you need something more custom for your own needs. Installing custom storage enables you to make use of every square inch in your bathroom, while also adding to the value of your home. Work with our team to design the perfect storage for your bathroom!
Shower System with Body Jet Sprays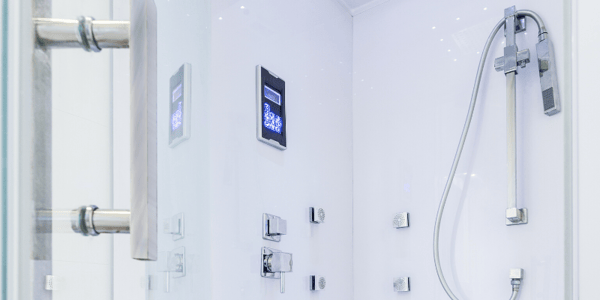 Is there anything more relaxing than body jet sprayers? Installing a shower system with a body jet spray feature will make your bathroom feel spa-like. You can customize each shower and select everything from which sprayers you'd like to use to the water pressure. Work with our team to have a shower system included in your design.
Stone Countertops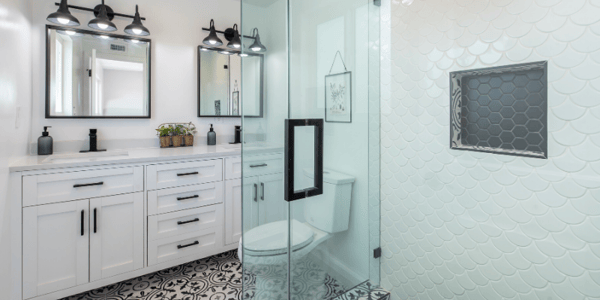 For many years, homeowners have preferred stone countertop materials like marble, quartz, and granite. Why stone? Its durability and longevity make it an excellent investment, while its natural beauty adds decorative flair to the room. Before selecting your stone countertops, consider the maintenance required. Granite and marble need regular re-sealing, but quartz is nearly maintenance-free. Talk to our team about the best stone countertops for your bathroom.
You may also like: Aging-in-Place: 6 Things You Need to Add to Your Home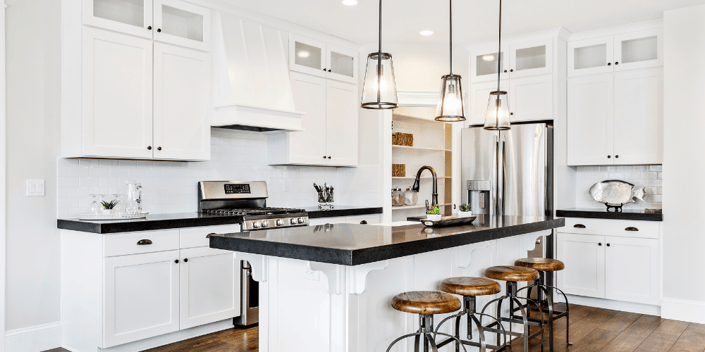 Is your Louisville, Kentucky home missing some key features that would make it the home of your dreams? If so, the good news is it doesn't have to stay that way. Remodeling your almost perfect home can easily give you the home of your dreams. Expand or renovate, install unique home features, add functionality, and do anything else you can imagine with home remodeling.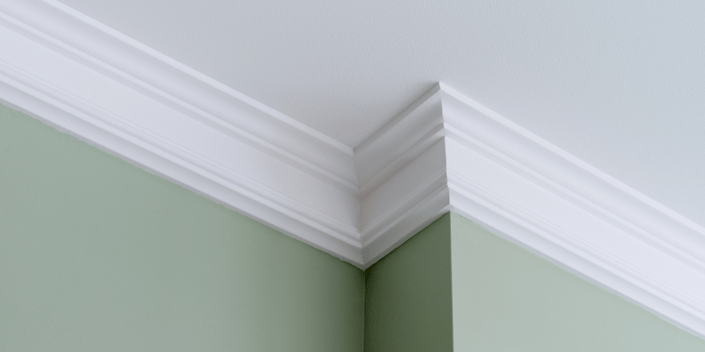 It's fall now, but winter is right around the corner and soon you'll be cozying up indoors, holiday hosting friends, wrapping presents with family, and decorating for the season. But is your home ready for a season of staying inside with your loved ones? Do you need to make some repairs, add functionality, or beautify your space? Keep reading for our list of holiday home improvement ideas. While it may be too late to fit in any major renovations, there are plenty of simple improvements that will have you singing "there's no place like home for the holidays!"