Design 101: What's In and Out for 2023
10 Nov, 2022
•

0 Comments
Interior design trends change faster than fall weather. Keeping up can be exhausting. Good thing we pay attention, so you don't have to.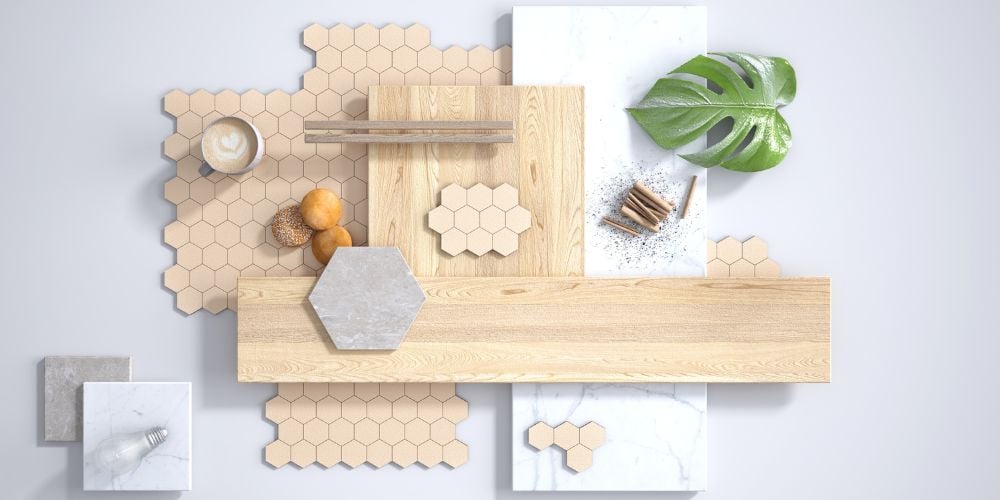 As design-build remodelers, advising our customers' design decisions is one of the most important parts of our job. So, whether you're curious about 2023 color trends or wondering how to avoid tasteless trends in your home remodel, Louisville Handyman & Remodeling has the inside scoop to help you out!
What is the Decor Trend for 2023?
Minimalism design style had the interior design industry in a chokehold for years. However, the aesthetic started slipping from its top position in 2022, and 2023 trends are solidifying the change.
Minimalism is all about trimming the fat and getting rid of unnecessary stuff. But people like stuff! In honor of that, interior design is becoming more and more maximalist.
Maximalism encourages homeowners to create eclectic, immersive interiors that speak to their personal tastes and material desires. It's about indulgence and embracing the things you love — whether or not they "go" together perfectly.
What are the Color Trends for 2023?
The shift away from white and gray interiors is further proof of this design evolution. No longer are homes sterile in the name of simplicity; today, paint colors are all about infusing comfort, energy, and fun into our homes through vibrant, punch-packing hues.
Check out these 2023 colors of the year to see for yourself!
Pantone Color of the Year 2023 - Digital Lavender
Pantone hasn't officially announced their 2023 color of the year, but all trend forecasts point to their pick being Digital Lavender. A new twist on Very Peri (Pantonte's 2022 Color of the Year), Digital Lavender is a simultaneously relaxing and playful purple with warm undertones. It's a hue reminiscent of color-soaked computer screens and French lavender fields, straddling the line between the digital and real-world — a necessity in modern life.
Sherwin Williams 2023 Color of the Year - Redend Point
A warm, earthy mauve, Redend Point is the star of Sherwin Williams' four-part 2023 color forecast, Tera. This nostalgic color palette combines inspiration from nature with eras past, nodding to hues from the 1960s and 70s. Tera features a wide range of browns, pinks, creams, and greens, with pops of purple, yellow, orange, and red.
Glidden & PGG Color of the Year - Vining Ivy
Green was one of the most significant colors in 2022. The trend continues into 2023 with new takes like Vining Ivy by Glidden & PPG. The jewel-toned blue-green is a statement color. It's versatile, too, dark enough for a relaxing bedroom and vibrant enough to bring energy into a space as an accent.

What is In for 2023?
So, what else is new for 2023? We're so glad you asked.
Wellness
Designers and homeowners alike are taking a different approaches to how we see our interiors. We're recognizing how home impacts mood, lifestyle, and the planet and designing accordingly.
One of the biggest trends for 2023, wellness design ranges from reducing your home's carbon footprint through better heating and cooling systems to cultivating spaces where you can engage in the most meaningful activities.
Here's what wellness design might look like:
Regulating your circadian rhythm and lowering lighting costs by prioritizing natural light
Filtering your water
Reducing dust and allergens through better airflow
Spending more time outside in an outdoor living area
Encouraging regular exercise with a home gym or workout area
Making a meditation space

Wallpaper
Maximalism and wallpaper go hand-in-hand, so it makes sense that they're both main characters in 2023 interiors. Play with patterns and create visual interest in your home with wallpaper trends such as geometric designs, murals, botanicals, damask, and art deco-inspired designs.
Arches & Curves
Most things in nature aren't made of straight lines and 90-degree angles. Interior design is internalizing this lesson in 2023 with curved, funky furniture and arch designs. Whether you use these whimsical shapes in art, decor, or architecture, they're sure to make your home shine in the new year.


What is Out for 2023?
Staying away from outdated trends is just as important as incorporating new ones. Here are the decorating trends on their way out the door that you should avoid.
The All-White Interior House
As we mentioned in the color section, all-white interiors are out. They're too simplistic to stand up to the colorful, comforting interiors making their way into design magazines today. Of course, there's something classic about a refined color palette. But if you want a trendy interior, consider reviving your all-white kitchen with olive green cabinets, statement countertops, or a colorful backsplash.
Farmhouse
Many remodeling homeowners have asked, "Is farmhouse going out of style?" It's a question, usually quickly followed by, "Is shiplap out of style?" or, "Are barn doors out of style?"
The answer is yes to all of the above. The farmhouse aesthetic and everything it encompasses — from shiplap to white walls with black accents to barn doors and reclaimed wood — had their moment as the top interior design look. Now, that time is over. Move over, farmhouse design; we're on to bigger and better things!
Faux Walls
While wallpaper is in, faux walls are so not. Faux walls in interior design range from fake reclaimed wood to painted brick to imitation stone. While we have nothing against a dupe for more expensive materials, faux walls instantly make your home feel cheap, so stay away!
Get Your Home 2023 Ready with Remodeling
Want to rid your home of lackluster looks and jump on the 2023 trends? The design team at Louisville Handyman & Remodeling are experts at refreshing homes and implementing the hottest new aesthetics.
But remodeling takes time, so don't wait to get started. Contact us today, and we'll help you get your dream home in the new year!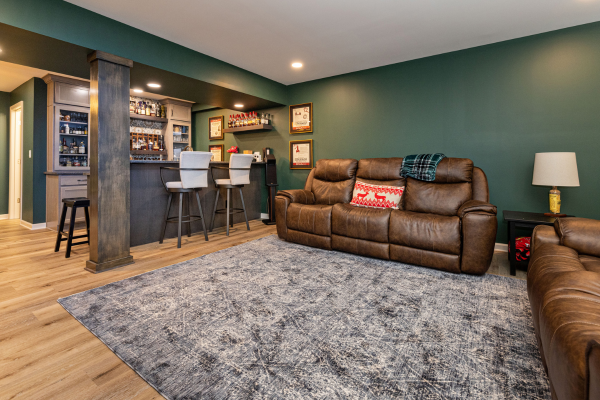 Louisville Handyman has been in the business long enough to encounter a myriad of misconceptions and myths associated with the design-build process. So today, we're taking a voyage into mythbusting territory. Let's unpack some common myths and highlight the best ways to sidestep potential pitfalls on your way to the home remodel of your dreams.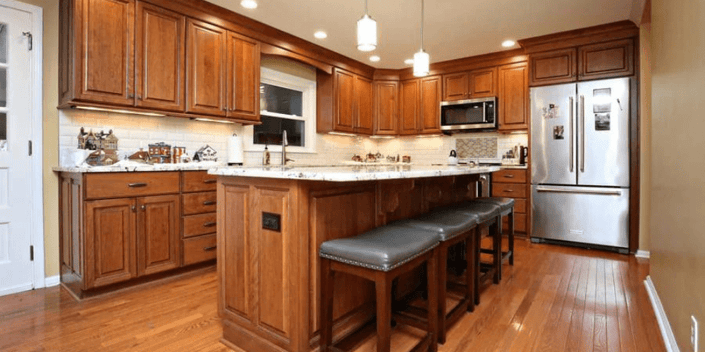 Welcome to another insider chat with Louisville Handyman, where we're all about turning your house into a home. Today, we're focusing on a topic close to the hearts of the hospitable folks out there – remodeling for entertainment. Whether you're looking back on past holidays and imagining how much better they could've been with an open-concept kitchen or daydreaming about transforming your basement into a bustling entertainment center, Louisville Handyman has got you covered.