How Much Does a Bathroom Remodel Cost in Louisville, KY
21 Sep, 2022
•

0 Comments
Sick of making do in a too-small bathroom? Or looking at dirty grout, chipped tiles, and water-stained faucets when all you want to do is take a relaxing bath? Then it's time to consider bathroom remodeling.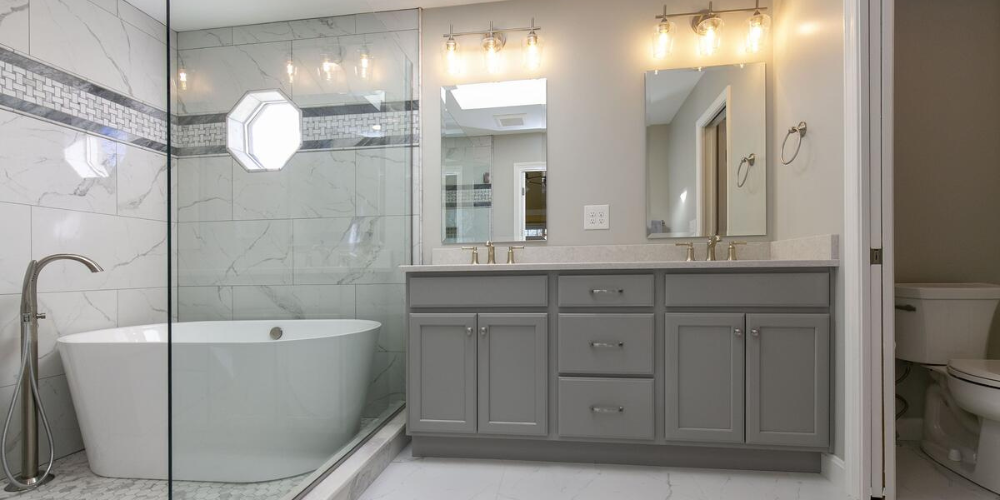 But before you embark on your bathroom renovation in Kentucky, there's one question you need to have answered: what is a realistic budget for a bathroom remodel? Louisville Handyman & Remodeling is here to give you the answers you need. Just keep reading!


How Much Does Bathroom Remodeling in Louisville, KY Cost?
The cost of a bathroom remodel in Louisville, KY, varies depending on the current condition and size of your bathroom, what you want to achieve in your remodel, as well as the quality and quantity of materials and bathroom amenities included. For this reason, the most accurate way to gauge the price of your project is to seek estimates from bathroom remodelers in Louisville, KY.
In the meantime, get a preliminary estimate by researching local remodeling costs. Our favorite source for such information is the Remodeling Magazine 2022 Cost vs. Value Report, which provides project descriptions and price information for multiple types of bathroom remodeling. We review this information and add our insights as local remodelers below.
Midrange Bathroom Remodel
You can remodel a 5-by-7 bathroom with all new fixtures for $24,081. At the midrange level, your new features are standard. You get a porcelain-on-steel tub-shower combination with a temperature and pressure-balanced shower control. Ceramic tiles cover the floor and surround the tub. The top of your vanity gets replaced, and a new sink is installed. Above it hangs a mirrored and lighted medicine cabinet where you can check your reflection and tuck away all your soap bottles, lotions, and other bathroom essentials. Your toilet is also replaced with a standard white alternative. And to finish off, you get new paint on the walls, trim, and ceiling.
Midrange Universal Design Bathroom
A midrange universal design bathroom is similar to the project outlined above; the main difference is that universal design accommodates someone with a disability, restricted mobility, and those at risk of falling. In short, it makes bathrooms safer. You should consider universal design if you or anyone in your family meets these criteria; it's also an ideal option if you're living in your forever home and plan to age in place.
Due to the extra features needed to make a bathroom accessible for all ages and abilities, the average cost for a midrange universal design bathroom is $38,747. For that price, a 5-by-7 becomes completely wheelchair accessible with a zero-threshold 36-inch-wide door, flat-panel electrical switches that are reachable from a sitting position, and a comfort-height toilet with a bidet-type seat. You also get a curbless walk-in tile shower with an adjustable shower head and a fold-out seat. Nine towel bars installed throughout the space double as grab bars that can support 250 pounds. The vanity can easily adjust to the user's ideal height and has an adjustable mirror. New LED lights, an infrared ceiling light, and a night light ensure the bathroom is well-lit at any time of day. As a bonus, radiant heating is installed beneath luxury vinyl tile flooring.
Upscale Bathroom Remodel Cost: $76,047
At $76,047, an upscale bathroom remodel goes up significantly in price, but there's a good reason. First of all, an upscale remodel includes expanding your current bathroom. This price is based on turning a 35-square-foot bathroom into 100 square feet within your home's existing footprint. Your new shower comes with a recess in the wall where you can tuck away your shower products, an accent strip on the ceramic tile walls for decoration, and a frameless glass structure to see your gorgeous new shower from every angle.
In addition to the shower, your new fancy bathroom comes with a freestanding soaker tub and high-end faucets. Your vanity comes with not one but two sinks and mirrored medicine cabinets; the countertop is a beautiful natural stone like marble, and the base has custom drawers. There's a separate enclosure for your toilet to provide ultimate privacy. You also get in-floor heating — no more stepping from a warm shower to a freezing floor! — and diagonal ceramic tiles make up the flooring. You also get new lighting.


Is a Bathroom Remodel Worth It?
Whether you're planning to sell your home soon or creating your forever home, you want to know whether your investment is worthwhile. Luckily, the Cost vs. Value Report provides figures for that too. The return on investment (or how much of your money you'll get back in added home value) for a midrange bathroom remodel is 69.4%. A midrange universal design remodel sees a 57.4% ROI and upscale remodeling tops out at 54.7%.
But there's more to whether a bathroom remodel is worth it than just numbers. Remodeling a bathroom is about creating a functional, sanctuary-like space where you can get ready every morning and unwind every evening. A bathroom that's old and falling apart isn't conducive to either of those things, and it can be a significant turn-off for future buyers looking at your home.
Bathrooms are one of the most used and vital areas of your home. For that reason, investing in a luxury master bathroom with a jacuzzi tub, for example, can be well worth considering how much these updated features will improve the quality of your everyday life.
Curious about how you can make the most of your bathroom remodel? Here are a few of our tips.
What Bathroom Features Add Value to a Home?
Custom storage and lighting

Double sinks

Installing windows

Updating fixtures and lighting

A walk-in shower

New tile

Heated floors
Get more inspiration for your bathroom remodel by visiting our portfolio.


The Best Choice for Your Bathroom: Design Builder in Louisville, KY
The next step in your Louisville home improvement is finding a remodeler you trust to do the job. With 20 years of experience in the area — and the glowing customer reviews to show for it — Louisville Handyman & Remodeling can bring your dream bathroom to life while increasing your home value.
Contact us today to get your bathroom transformation underway.


©2022 Zonda Media, a Delaware corporation. Complete data from the 2022 Cost vs. Value Report can be downloaded free at www.costvsvalue.com.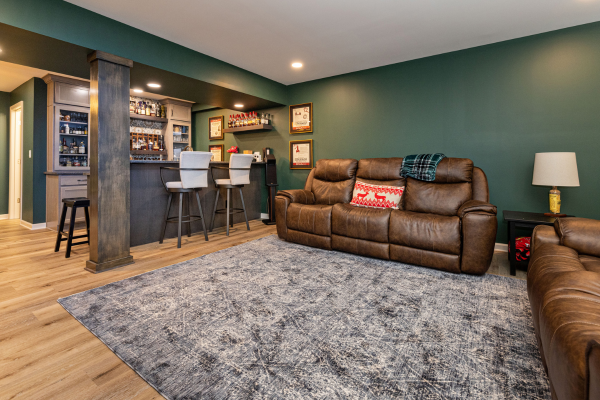 Louisville Handyman has been in the business long enough to encounter a myriad of misconceptions and myths associated with the design-build process. So today, we're taking a voyage into mythbusting territory. Let's unpack some common myths and highlight the best ways to sidestep potential pitfalls on your way to the home remodel of your dreams.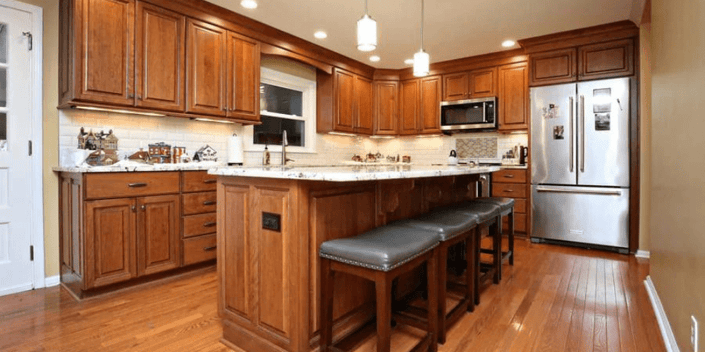 Welcome to another insider chat with Louisville Handyman, where we're all about turning your house into a home. Today, we're focusing on a topic close to the hearts of the hospitable folks out there – remodeling for entertainment. Whether you're looking back on past holidays and imagining how much better they could've been with an open-concept kitchen or daydreaming about transforming your basement into a bustling entertainment center, Louisville Handyman has got you covered.