Create the Perfect Outdoor Living Space at Your Louisville Home
08 May, 2020
•

0 Comments
As fall rolls around, here in Kentucky, we have the ideal environment for outdoor living in style. Imagine having a spacious deck entertaining area ready for the next Derby Festival. How about adding a water feature and some hardscaping to elegantly shade a west-facing patio for cooler summer evenings? Consider a sunroom that gives you more natural light in over the winter, or the magnificent curb appeal of a gracious front porch? At Louisville Handyman & Remodeling, we can turn any of these dreams into reality.
Turn Your
Patio

into an

Outdoor Living

Room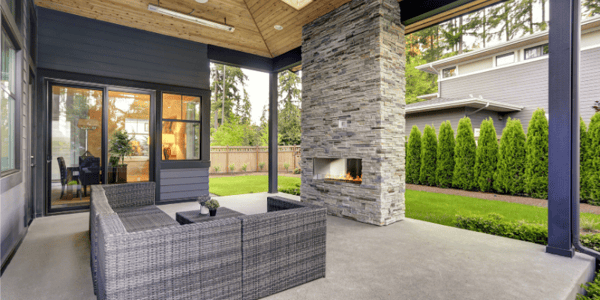 Just because Louisville summers are hot and humid doesn't mean you have to hide in the air conditioning the whole time. The right patio design, with hardscaping, cooling shade elements, landscaping and water features can cool your patio down and make it an elegant place to cook, dine, relax and entertain. Consider extending shade over the patio and adding landscape features to minimize heat and direct cooler breezes to the patio area. Light-colored stone, shiny tile, light gray or white-painted wood features can also bounce excess heat away.
Once the crisp fall days start to roll in, comfy, weather-hardy furniture and an outdoor fireplace can make your patio the place to be on any cold night. Check out these creative designs for your own outdoor fireplace.
Make Your
Porch

More Sumptuous and Inviting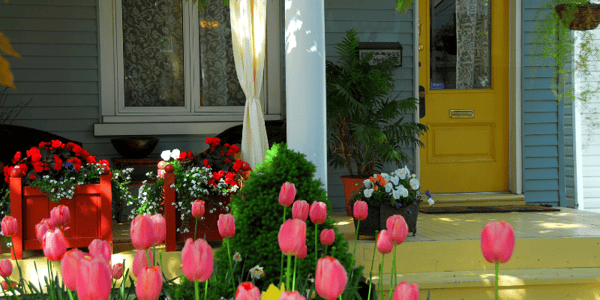 Imagine a porch so luxurious that you make time to eat breakfast out there? Imagine how your guests (or potential homebuyers) will feel when stepping onto your front porch. Creating a covered front porch, complete with a porch swing and breakfast nook surrounded by inviting landscaping will say "Welcome!" even before they even walk through the front door.
Create Serious Entertaining Space on Your
Deck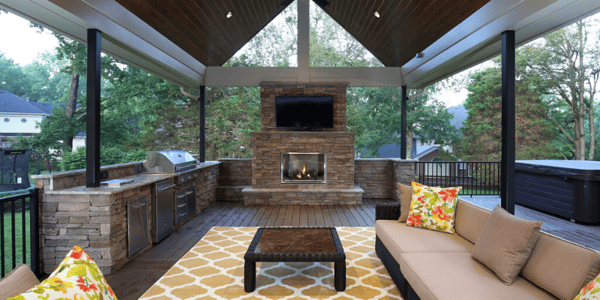 If you've got a lovely view out back, but no deck, or a too-small-for-entertaining deck, then it's time to consider a serious deck upgrade. Expanding the deck, adding a covering, and then finishing it off with an outdoor kitchen and fireplace can go a long way to creating the outdoor entertaining space of your dreams. Make sure to add a ceiling fan to your deck covering to keep the breezes blowing on hot summer nights.
Make a Splendid
Sunroom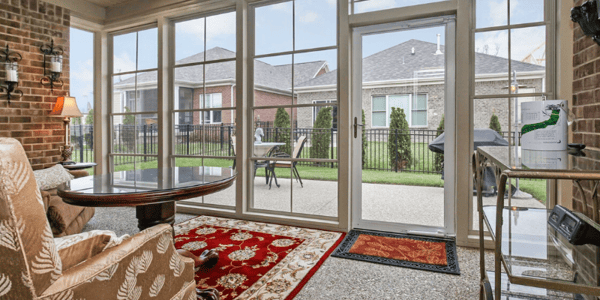 Of course, we've talked a lot about summers on the deck, porch or patio; but how can you extend your outdoor living into the wild, wacky winters we get here in Kentucky? One word: sunroom. A sunroom can fill your need for more natural light in the winter without actually going completely outside and shivering in the ice and snow and wind and whatever else is on tap next winter. With floor-to-ceiling windows, skylights, a fireplace, and comfortable furniture, you can read, relax, invite guests or even, if it's a large sunroom designed for that purpose, host quite an elegant party.
Contact Our Team
Get more fresh air and extend your entertaining space into the great outdoors by upgrading your patio, expanding your deck, sprucing up your porch, or adding a sumptuous sunroom that'll help you enjoy the outdoors anytime of year. Contact us today to schedule your free consultation today!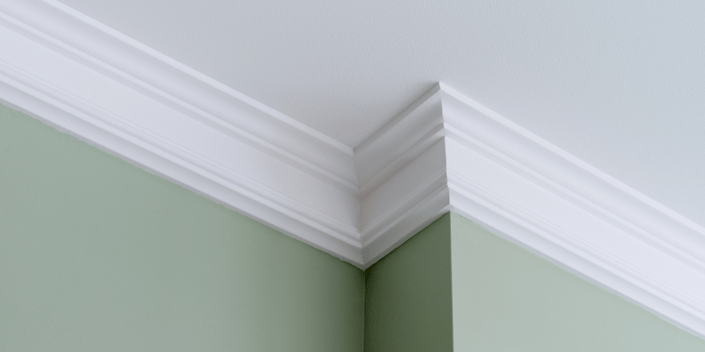 It's fall now, but winter is right around the corner and soon you'll be cozying up indoors, holiday hosting friends, wrapping presents with family, and decorating for the season. But is your home ready for a season of staying inside with your loved ones? Do you need to make some repairs, add functionality, or beautify your space? Keep reading for our list of holiday home improvement ideas. While it may be too late to fit in any major renovations, there are plenty of simple improvements that will have you singing "there's no place like home for the holidays!"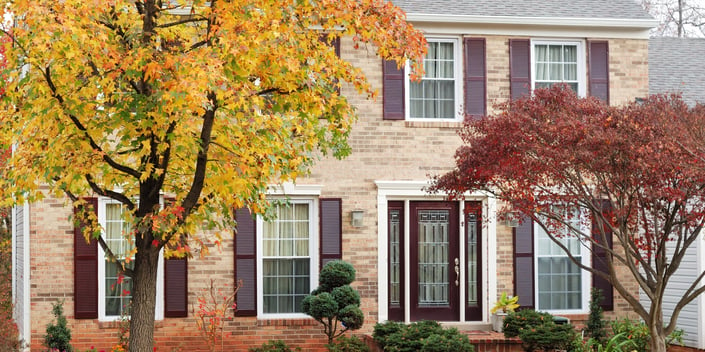 It's fall, y'all! Now that fall is here, it's time to get your home ready for the cold days of winter. There's much to do around the house to prepare your home for the coming season that is a bit different than preparing your home for summer. With freezing temperatures comes frozen pipes, damage to sprinkler systems, ice dams on the roof, and more. You can prevent all of that by taking care of your house today. Here's what you need to know.