Choosing the Best Materials for Your Louisville Kitchen Remodel
16 Jul, 2020
•

0 Comments
The key to a perfect kitchen remodel is selecting the right materials for your space. If you've been thinking about having your Louisville kitchen remodeled, you'll want to consider what kind of materials would work best in the space based on your use and style preferences. Do you need durable flooring for your children and pets? Do you want countertops that don't require a lot of maintenance? Do you require cabinets that have room to store away your smaller appliances? Check out some of the best materials for your Louisville kitchen remodel:
Choosing Materials for Your Kitchen Remodel

Cabinets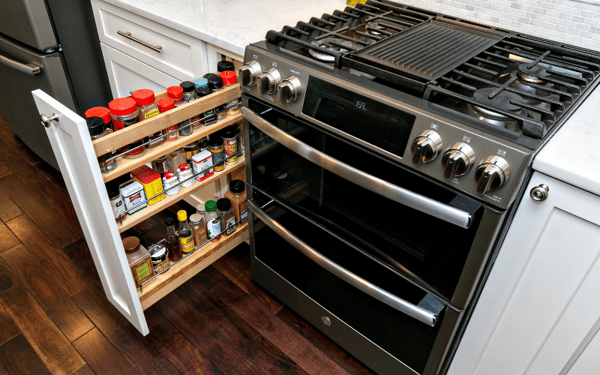 Your kitchen cabinets are the foundation of your kitchen remodel. Updated cabinets can breathe new life into even the most dated kitchen. However, before you can choose new cabinets, you need to put some thought into it first. Here are some things to consider before making any decisions.
Which style do you prefer? (Flat-front, shaker, raised panel, beaded, glass-front, unfinished wood, etc.)
Is there a specific finish or color that you'd like to have?
What kind of layout do you want?
Do you need custom storage for your small appliances or cookware?
What type of cabinet hardware (door knobs and drawer pulls) do you want?

Countertops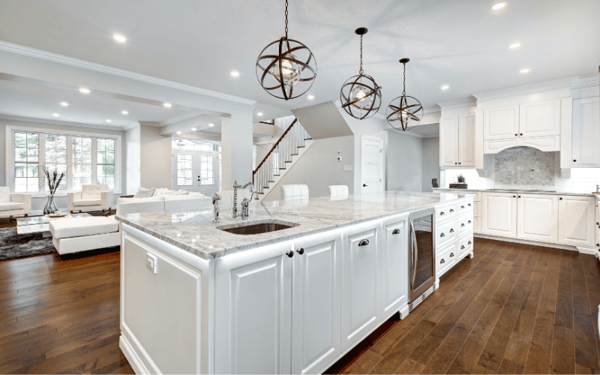 Choosing the right countertops is paramount when it comes to how much you end up enjoying your new kitchen. Your kitchen countertops service as a workspace, but they should also be easy to clean and maintain, as well as being cosmetically appealing. Here are some of the most popular kitchen countertop materials on the market.

Granite a natural stone that is very strong and durable, comes in a wide variety of colors, can withstand a fair amount of heat, and will increase your home's value. However, keep in mind that granite isn't a non-porous material.


Marble is a natural stone with unique veining; therefore, no two stones will be alike. It is waterproof, heatproof, and will add value to your home. However, marble countertops can be easily scratched and usually difficult to repair.

Quartz countertops are the easiest kitchen countertops to clean and maintain. They are made up of ground stone and resin so they don't require regular sealing like granite and marble countertops do.

Soapstone is a natural stone that is usually a dark gray and has a smooth, silky feel to it. This material develops an antique-like patina over time and any damage can be easily sanded out.

A man-made solid surface countertop and is usually sold under names like Corian, Avonite, or Swanstone. This material resists staining, the seams are almost invisible, and any damage can be easily sanded out. And, solid surface countertops come in a wide variety of colors and patterns.

Flooring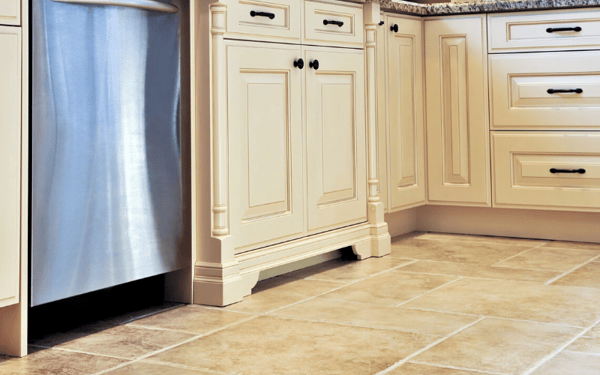 When choosing the flooring for your kitchen, consider something that is durable and suitable for high traffic areas. Here are some great kitchen flooring options:
Ceramic tile has been a popular kitchen flooring option for quite some time, although, there are a few new products on the market that are beginning to gain some traction. (We will talk more about PVC in a moment.) It is made from natural clay and is manufactured by being shaped, glazed, and then fired under a high heat process. This type of tile is extremely durable, waterproof, and stain-proof. It's also resistant to heat and breakage when used under normal conditions. Additionally, ceramic tile comes in a wide variety of colors, patterns, shapes, sizes, and even mosaics.
Wood floors are a must-have for many homeowners. They're warm, luxurious, and add a natural element into any design. Although wood flooring is not stain resistant, it can be sanded down and refinished from time to time to make it look like new again. Installing wood floors into your kitchen will not only give it a beautiful upscale look, but will pay off huge if you ever decide to sell your home.


LVT (Luxury Vinyl Tile) or LVP (Luxury Vinyl Plank)
Sheet vinyl (PVC) flooring has been around for a long time. However, there is a newer version of vinyl flooring now on the market. These new products are also made of PVC, but they are manufactured to be more durable than sheet vinyl. LVT (Luxury Vinyl Tile) or LVP (Luxury Vinyl Plank)are floating floors that can be made to look like laminate, hardwood, or tile flooring. They are installed by clicking the pieces together over an existing bare or tile floor. LVT and LVP floors are very durable and are a less expensive alternative to ceramic or hardwood floors. However, all types of vinyl flooring whether it be sheet vinyl, luxury vinyl tile, or luxury vinyl plank are all made from polyvinyl chloride (PVC), which is the world's most versatile plastic.

Backsplash Options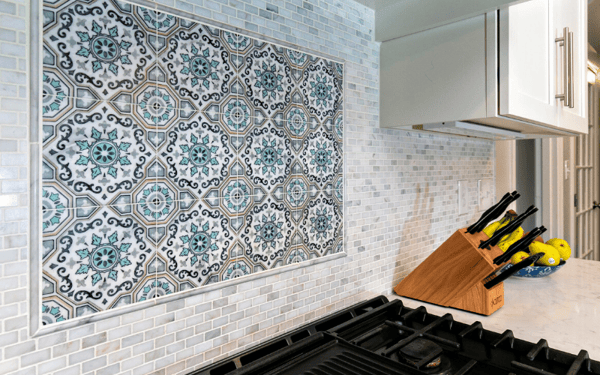 A well-defined backsplash can really make your kitchen pop and there are a wide variety of options from which you can choose. Here are some of the most popular options:


White or colored subway tiles
Hexagon or other geometric tiles
Black honed stacked tiles
Matte ceramic tiles
Marble tiles
Herringbone tiles
Stainless steel
Brick
Contemporary porcelain tiles
Glass tiles
Mirrored tiles
Moroccan tiles
Stone slab
When selecting your backsplash, make sure to consider the color and finish of your cabinets, hardware, lighting, and appliances to ensure a beautiful cohesive look in your new kitchen.
Finishes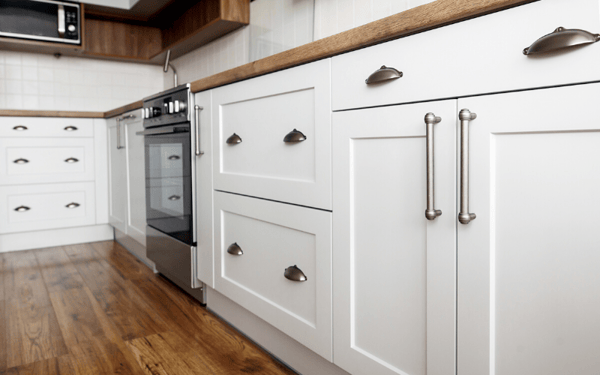 The finishes you choose for your kitchen cabinets, drawers, faucets, and other fixtures is like adding icing to a cake. The right finishes will really accent the other features in your kitchen. Here are some of the most popular finishes by category:


Appliances - Stainless steel, black stainless steel, and matte black are all great options for any style of kitchen. You could also opt for bold colored appliances like a bright blue BlueStar range or a san marzano red Viking refrigerator.
Cabinet Hardware Finishes - Satin and brushed nickel, matte black, copper, and gold hardware (cabinet pulls and knobs) are all great options for your kitchen remodel. You can also opt to mix metals by choosing two different metallic pulls and knobs.
Faucets - Brushed or polished nickel remains one of the most popular kitchen faucet finishes because it wears well and is easy to keep clean (not to mention being versatile and stylish). However, matte black, gold, and warm copper faucets are also starting to trend.
Choosing the materials for your kitchen can be such a fun and exciting part of the remodeling process, but it's important to pay attention to the things that matter most to you like maintenance and durability. If you have questions about choosing materials for your remodel or would like some help transforming the kitchen in your Louisville home, we're happy to help. Contact us today!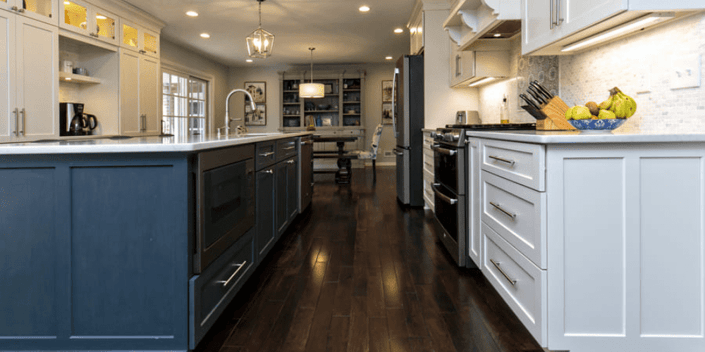 Welcome to our blog about kitchen remodeling costs – the only place where 'spending a lot of dough' is a good thing! All jokes aside, if you're considering a kitchen remodel, you're probably wondering how much it's going to cost you. The truth is, there's no one-size-fits-all answer to that question, as the cost of a kitchen remodel can vary widely depending on various factors. However, at Louisville Handyman, we're committed to helping you get the kitchen of your dreams without breaking the bank. So, let's dive into the nitty-gritty of kitchen remodeling costs and find out what you can expect to pay for your project.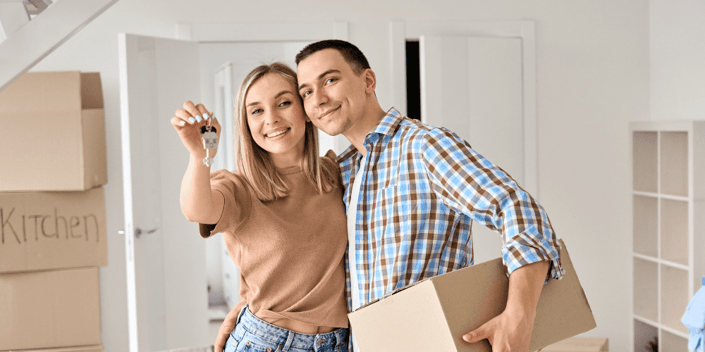 Congratulations! You're thinking about becoming one for the first time. When you've never been on a home-buying journey before, it's hard to know what to expect or what to do to get the most out of your home-buying experience or new home. Our guide for new homeowners will begin with some of the financial basics to help you understand the process of buying a home and what you can expect to pay and experience.